Wave Spring Flat Washers
Boker's is a leading stamping manufacturer of wave spring washers. Wave spring washers, also called wave washers, generally have several curvilinear lobes. The wave spring washer is an efficient washer for obtaining loads when the load is static or the working range is small and the amount of axial space is limited. Wave spring washers often have three, four, or six waves, however, any number of waves can be produced. By increasing the number of waves, the thickness can be reduced for a given load at the expense of decreasing the amount of deflection and increasing the radial stress. Wave uniformity is important because the load rate doesn't begin until all waves are evenly loaded.

To obtain a quote for a wave spring washer please fill out our fast quote form.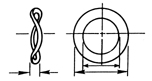 Wave Spring-Washers Cylindrically Curved Spring
Search wave spring washers
Search below to identify tools in stock available for manufacturing your wave spring washers in any quantity without a tooling charge. You can choose a thickness for precision wave spring washers within the tool range indicated.
Note, the inside diameter noted may shrink by as much as 10% of the material thickness depending on the material used and its thickness. If no tool is available within your specified tolerance range Boker's can have a custom metal stamping die manufactured in just a few hours. For custom orders fill out the fast quote form. Please refer to Boker's non-metallic shrinkage factors.
Search Results All measurements are given in inches
Note, Boker's does not carry any flat washers in stock.
Types of Custom Washers Manufactured by Boker's.
Need a custom washer? There are literally an infinite number of custom washer types that Boker's can produce. You can send your custom stamping illustrations/specifications to Boker's for a specific custom washer type by using our fast quote form.