Wave Spring Washers
Boker's is a leading metal stamping manufacturer of wave spring washers. Wave spring washers, also called wave washers, generally have several curvilinear lobes. The wave spring washer is an efficient washer for obtaining loads when the load is static or the working range is small and the amount of axial space is limited. Wave spring washers often have three, four, or six waves, however, any number of waves can be produced. By increasing the number of waves, the thickness can be reduced for a given load at the expense of decreasing the amount of deflection and increasing the radial stress. Wave uniformity is important because the load rate doesn't begin until all waves are evenly loaded.
To obtain a quote for a wave spring washer please fill out our fast quote form.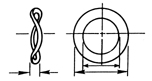 Wave Spring-Washers
Types of Custom Washers Manufactured by Boker's.
The following illustrations provide a snap shot of various washer types commonly produced at Boker's. There are literally an infinite number of custom washer types that Boker's can produce, and this list here only scratches the surface. You can send your custom metal stamping illustrations/specifications to Boker's for a specific washer type by using our fast quote form.
Standard Flat Washers
| | |
| --- | --- |
| SAE | Standard Wrought |
Specialty Flat Washers

"C" Shape

"D" Shape

"D" Shape - 2

Disc

Fender

Flange

Flange - 2

Flattened Shaft

Hexagonal Hole

Off-Center Hole

Rectangular

Retaining

Square Hole

Square

Star Disc

Star

Wide Sidewall
Finishing Washers

Finishing

Finishing - 2
Lock/Tab Washers

Internal Tab

Internal / External Tab

Multiple Internal / External Tab

Tab Lockwasher

Tab Lockwasher - 2
Beveled Washers

Beveled Cup

Beveled O.D.

Cup or Retainer

Serrated Tooth Cup
Countersunk Washers

Countersunk

Countersunk - 2
Spring Washers

Belleville Spring

Cylindrically Curved Spring

Spherical Spring

Wave Spring
Miscellaneous Type Washers

Dimpled

Electrical Contact

Spring Retainer
*Washer illustrations provided courtesy of the Precision Metalforming Association.