Above Photo: Vitus Boker, center (with hat) in the early Boker's plant. Belt driven lathes are powered by pulleys mounted to the ceiling. Sons John P. (Pete) Boker, right, and William E. "Bill" Boker, second from right, are shown at work.
Short-run and medium-run stampings... Boker's was there in the beginning.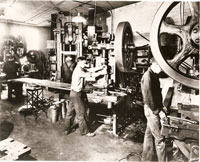 Punch presses in Boker's early shop perform contract stamping work around 1935.
Actually blacksmiths from the medieval period were the original developers of short run stamping methods. Known for shoeing of horses these blacksmiths would produce hundreds of precision parts to make chain mail and plate armor. A hammer, a forge, an anvil and crude dies along with the stamping power provided by human biceps was all that was needed to outfit a small army. Needless to say, a lot has changed.

Today it is commonly accepted that short run stamping methods currently used were invented in the late 1920s and early 1930s in Minneapolis, Minnesota. This is true, to some extent. The late Mr. Vitus Boker was using tooling much like the early '20s tooling in Denmark, back in the 1860s. Vitus with his wife Anna and two young children immigrated from Denmark to the United States in 1901. He eventually ended up in Minneapolis where he went to work for a small manufacturing company. Here he displayed willingness to work and attention to detail. Those traits quickly earned Vitus the job of shop superintendent. A few years later Vitus founded V.A. Boker & Sons, Inc. in 1919 with his son John in the basement of their Minneapolis home. Initially Vitus Boker intended to build the company around its first products, an envelope folding machine and a small hand check protector. However, with his tooling knowledge the enterprise began generating more revenue from manufacturing prototypes and custom parts for automated machinery. As the word spread of Boker's unique process for producing high-quality, short-run, stamped metal parts, the demand grew. Vitus quickly found himself entrenched within the stamping industry as one of the pioneers for short-run stampings.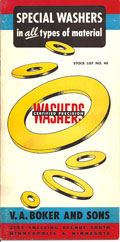 The business outgrew Boker's basement and two subsequent manufacturing spaces until settling on Snelling Avenue in Minneapolis in 1939. The war years brought increasing business from the defense contractors, and the pace continued as the company adjusted to the postwar consumer economy. In 1942 Vitus retired, leaving John to run the operation with his three siblings, William, Richard, and Marie. Then, operating under the name Boker Corporation, the company continued using Vitus Boker's process for Certified Precision Stampings and started to compile a list of stock dies accumulated for use in manufacturing non-standard washers, spacers and shims. During this time the facilities on Snelling Avenue had been expanded four times, eventually encompassing more than 50,000 square feet. Boker Corporation was fast becoming the premier provider of non-standard certified precision washers across the nation. The list of stock tools has since been a staple reference guide for non-standard washers for original equipment manufacturers.

In 1968 Boker's Inc. entered its modern era when it was purchased by four employees: William Tedlund, Joseph Basara, Chester Engquist, and Joseph Kantorowicz. The facility went through two additional expansions and in 1986 William Tedlund became the sole owner.

Today Boker's is still a privately held family owned business guided by Vitus Boker's principals of hard work and attention to detail with William Tedlund as Chairman of the Board. Continued growth has resulted in two additional expansions, with the most recent completed in 2008. Facilities now encompass more than 90,000 square feet. The work force has continued to grow with many highly skilled tradesmen, some of whom have been with the firm for decades. Boker's now operates globally exporting to numerous countries and has provided precision parts to a great variety of industries including aerospace, automotive, medical, and consumer products. Boker's continues to specialize in short-to-medium run washers and stampings and has recently expanded their capabilities to also provide long-run orders.
Vitus Boker's Shop in Praestbro, Denmark (Circa 1895)
Boker's Founded in 1919 - First Location
Boker's Second Location (1926 - 1933)
Boker's Third Location (1933 - 1938)
Harry A. Blackmun, an Original Director of Boker Corporation
Boker's Fourth/Current Location
Worry Cure – Prescription for Success – Vitus A. Boker

Return to About Us