Above Photo: Vitus Boker, center (with hat) in the early Boker's plant. Belt driven lathes are powered by pulleys mounted to the ceiling. Sons John P. (Pete) Boker, right, and William E. "Bill" Boker, second from right, are shown at work.
Boker's Reaches a 100 Year Milestone: The Past, Present and Future
Beginning a Legacy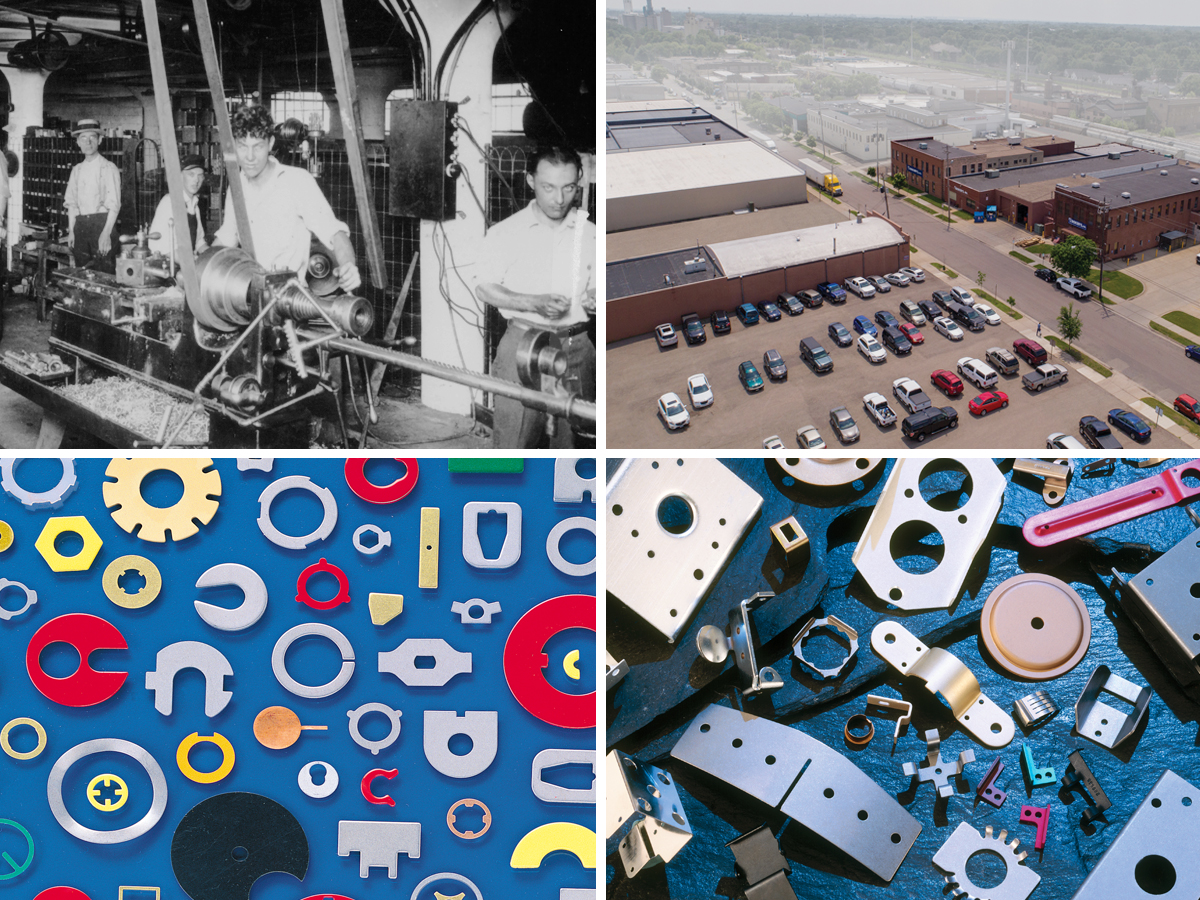 It all began in the basement of a young, passionate and focused gentleman named Vitus Boker in Minneapolis, Minnesota. With a background of extensive tooling knowledge gained from previously working at a manufacturing company in Denmark, Vitus decided to take the leap and build his own company with his son, John, in 1919, called V.A. Boker and Sons, Inc. As time went on Vitus' other children: William, Richard, and Marie, also joined in the family business. Initially, Vitus intended to build the company around its first products, an envelope folding machine and a small hand check protector. However, with his extensive tooling knowledge, the enterprise began generating more revenue from manufacturing prototypes and custom parts for automated machinery. As the word spread of Boker's unique process for producing high-quality, short-run, stamped metal parts, demand grew. Vitus quickly found himself entrenched within the stamping industry as one of the pioneers of short-run stampings. The business boomed and has continued to flourish throughout the years, growing in space and customer base.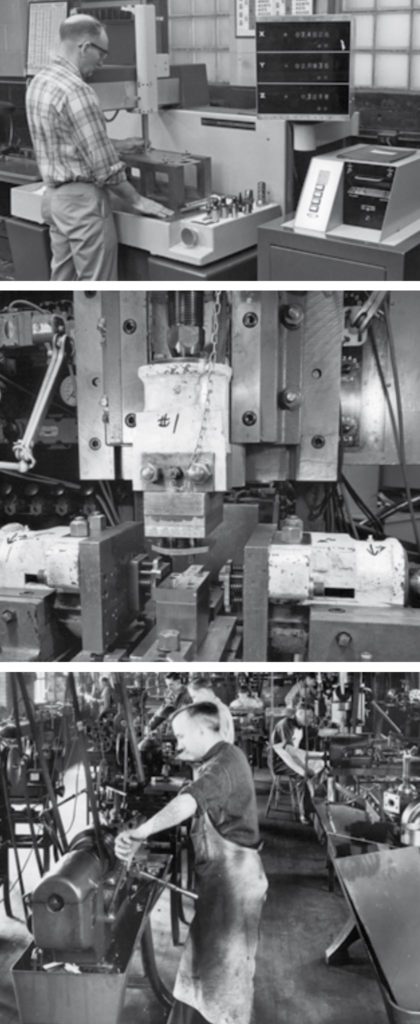 In 1968, Boker's was purchased by four of its employees: William Tedlund, Joseph Basara, Chester Engquist, and Joseph Kantorowicz, and was run successfully for many years. In 1986 William (Bill) Tedlund became the sole owner. He continues to lead the business with the Boker's values and traditions, instilling those principles with his own family. He has also taught his family and others an important humbling truth to live by saying, "It is important to know what you know, but more important to know what you don't know and who to go to."
Today, Boker's is still a privately held family-owned business, in its fifth generation, guided by Vitus Boker's principals of hard work and attention to detail with Bill Tedlund as Chairman of the Board. From starting to help out the family business as children, the legacy continues with Bill's children Wendy, Amy and Barry as shareholders. Amy Kersey (Bill's daughter) is the current CEO/President and her sons, Chuck and Tony Kersey as the 5th generation at the helm of Sales and Marketing.
"Our father knew every employee and kept the pulse on the business by wandering around the shop and talking to the employees," said Barry Tedlund. "He really knew the people and their families and what was important to them. Bill Boker, a past second generation owner, wanted to make sure the employees would continue to be taken care of when the transfer of ownership was made, and my dad made sure of it."
Being a values-driven company from the start also meant giving back and being good stewards for the surrounding community. As an employer for skilled tradespeople, Boker's first employed local people within walking distance. These days, they draw employees from across the Twin Cities and outlying communities
A Part of Every Industry

Boker's has manufactured parts for almost every industry and product imaginable: from payphones, coffee makers, medical devices, missiles, mail sorting machines to dental instruments, snowshoes and aircrafts. Stampings and washers are needed in virtually everything we use or come in contact with on a daily basis. "The parts we make affect everyone we care about and that's why delivery of quality components through certified processes are important." says Tony Kersey, Marketing Manager.
"There are a vast number of industries out there and we have had a hand in almost all of them," said Randy Clementson, Class A Inspector. "Every time I see a payphone, I remember making those parts for the coin slots on top of the phone. It's fun and exciting to be at a place that serves every industry."
One of the many customers of Boker's is a major aerospace manufacturer who came to Boker's for various parts including small parts for the gauges in the cockpit, parts for the fuel system and even a part that was used for the inflation slide on an airplane. Another longstanding customer of over 80 years, is a dental company that needed a part made for a mouth piece that was used for absorbing fluids during procedures.
In times of crisis, Boker's has been counted upon to manufacture component parts that are urgently needed. Whether it was for urgent combat efforts during WWII, or making a custom stamping used in rescue efforts at Ground Zero during the 9/11 disaster, Boker's was there. Employees banded together to get these high-quality parts out quickly, sometimes within a 24-hr turnaround, knowing that many others counted on them and failure to deliver was not an option.
"Customers trust Boker's because of our service, quality and on-time delivery," said Nick Todora, retired Advertising Manager. "They would come to us with a difficult part that they were struggling with and we would figure out how to manufacture the part to their exact specifications, and that is where they found their trust in Boker's."
The Spirit of Boker's
"Our employees and the culture they create are the core of Boker's long-lasting success," said Mark Kersey, Vice President. "Boker's was founded on the principles of hard work, camaraderie and creating an atmosphere where employees feel appreciated and encouraged to grow personally and professionally. Some of us have been with Boker's for 40-50 years and have worked many different positions throughout our careers. Our culture is very customer-orientated and continues to be one of our greatest strengths."
"You get one year of experience 46 times and soon you know every position on the shop floor," said Randy. "All the employees are willing to help each other out - we have a real strong bond. It's like family."
Boker's works in a fast paced and high demand industry. Over the past 100 years Boker's has embraced and been on the forefront of technology, which has gone from largely manual processes to utilizing automated controls and equipment. Tolerances have gone from loose to tight as the parts and components have gone from large to small. With a solid community of employees, a culture of friendship and our care for the customer, the company will continue to grow and evolve in the future.
Continuing the Legacy
Back in 1974, Bill Tedlund had the vision of expanding the business into every industry. Boker's continues to evolve with new technology while embracing the ever-changing needs of our customers. "Our customers are diverse. Our employees are smart, quick and pay attention to the details needed to produce the component that the customer needs in a timely fashion," said Mark Kersey. "Years ago, lead times were 14-20 weeks to deliver parts and today the turn-around time is about 2 weeks."
Boker's is currently expanding their manufacturing facility to streamline processes and add capacity as product diversification continues to grow. The new space adds 66,500 square feet, almost doubling their current manufacturing space. "I'm looking forward to getting the new plant up and running," said Amy Kersey. "This expansion will help us continue to exceed our customers' requirements into the future without ever losing sight of their needs, nor our team."
"The future of Boker's is sticking to the wheelhouse of what we are known for, expanding our customer base and serving markets on the forefront of technology," said Tony Kersey. "I'm focused on learning everything about the industry and growing the business for future generations to be a part of. We will continue to adapt and pursue new technologies, in keeping up with changing customer requirements. Our customers depend on our flexibility in dealing with an ever-changing environment."
"Our controlled processes coupled with our employee base is what sets us apart," said Chuck Kersey, Assistant Sales Manager. "Our team works hard and is dedicated to following and continually improving processes. This is the reason Boker's is successful and will continue to be for the next 100 years."

Timeline
Preceding 1919
1919-1925
1926-1940
1941-1970
1971-Present