Conical Shaped Washers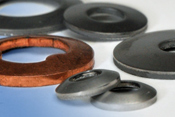 Conical washers have a cone shape design that provides the highest load bearing capacity and the lowest deflection range in the spring washer family. Also referred to as belleville washers that are often stacked to improve performance. These washers are often made from beryllium copper, high carbon steel, spring temper phosphor bronze or stainless steel.

To obtain a quote for conical washers please fill out our fast quote form.