Long Run Metal Stampings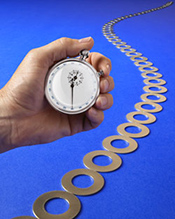 Boker's, Inc., has over 60 stamping presses with a variety of technologies including progressive tooling and high capacity finishing equipment. This allows Boker's to ensure every metal stamping production run is matched with the appropriate equipment to ensure effective and efficient production. When the appropriate stamping press is combined with Boker's stamping expertise long run stampings are produced with remarkable speed. Boker's also has the production capacity and enhanced technology to manufacture high volume stamping runs quickly well into the millions.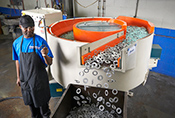 Rely on Boker's to ship your high volume stamping runs with the same short lead time you require for your other components. This includes runs of precision stampings in both commonly specified and hard-to-find materials such as low carbon sheet steel, five types of spring steel, stainless steel, aluminum, brass, copper and nickel silver, and non-metallic materials such as nylon.
Boker's precision stampings are manufactured in a wide variety of sizes, including flat blanking and piercing up to 12" x 12", metal forming thicknesses from .005" to .190", and deep draws of up to 3" deep and 8" in diameter.
To obtain a quote on your next long run stamping project fill out Boker's fast quote form and submit with your production prints.