Certifications
Boker's is a woman owned business and Boker's Quality Management System (QMS) is AS9100/ISO 9001 certified to ensure your service will be efficient and your parts will meet your specifications - everytime. Following are commonly requested certificates available for immediate download. Additional certifications and documentation are available upon request for your specific stamping or washer order as noted below.
Common Certificates Requested:
AS9100/ISO 9001 Certificate
ITAR Certification
Woman Owned Certificate
Better Business Bureau Accredidation
Environmental Compliance:
Boker's, Inc. is committed to responsible business practices that portray our dedication to our employees, customers and country. Boker's sources conflict-free material and services, in addition to materials that do not contain regulated or hazardous substances, from validated suppliers. These include, but are not limited to, tin, tantalum, tungsten and gold. It is important that our suppliers adhere to the laws put in place to ensure our values and commitments are reflected in our customer offering. More...
Boker's Quality Assurance Office and Inspection Facilities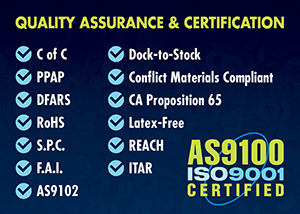 With over 900 square feet, Boker's Quality Office and inspection facilities provide confidence knowing the stampings and washers you get from Boker's are going to meet your specifications from the first part to the last.
Our quality assurance facility allows Boker's to increase productivity and minimize lead times while simultaneously meeting increased industry and internal demands for producing and maintaining quality documents and specifications. Under the direction of the quality manager Boker's has a quality technician and multiple inspectors to document each job based on specific client needs.
Boker's takes their manufacturing practices very seriously and maintains an AS9100 and ISO 9001 certified status. This means when you purchase your products from Boker's you will have the confidence our processes are efficient and effective.
Upon request Boker's provides certifications or documentation for your specific stamping or washer order. These quality assurance and certification documents include:
C of C - Certificate of Compliance
PPAP - Production Part Approval Process
DFARS - Defense Federal Acquisition Regulation Supplement
RoHS - Restriction of Hazardous Substances DIRECTIVE 2002/9S/RC
S.P.C. - Statistical Process Control
F.A.I. - First Article Inspection
AS9102 First Article Inspection
Dock-to-Stock
ITAR- International Traffic in Arms Registation
REACH
European regulation involving the registration, evaluation, authorization and restriction of chemical substances-Boker's provides REACH documentation.
This ensures Boker's promotes responsible chemical handling and use, and provides European customers with the assurance and legal compliance that REACH requires.
Boker's Mission Statement:
Boker's, Inc. mission is to be recognized as a leader in the Stamping industry.
We will achieve this goal by consistently meeting or exceeding
Quality objectives
On-time delivery
Customer service expectations
through continuous process improvements, trained and engaged employees and cost effective processes.
Boker's Quality Policy:
It is the policy of Boker's, Inc., to provide our customers with parts that meet or exceed their quality requirements. We are committed to comply with and continually improve the effectiveness of our Quality Management System.