Notched Washers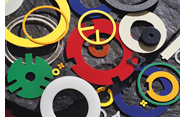 Boker's is a leading metal stamping manufacturer of notched washers manufactured in a wide variety of sizes and materials. Notched washer sizes include outside diameters ranging from .0841 inches to 6.000 inches, in addition to multiple inside diameter and thickness options, allowing notched washer compatibility with all types of nuts, bolts and fastening systems.

Notched washers are a type of lock washer, round in shape and often manufactured with a single notch or multiple notches and/or tabs in internal or external locations. Ideal for use in harsh environments, notched washers effectively lock a part into place in applications requiring extreme heat conditions or heavy vibrations.

To obtain a quote for notched washers please fill out our fast quote form.