Square Washers
B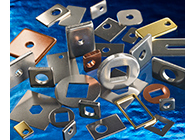 oker's, Inc. is a manufacturer of non-standard square and rectangle flat washers that cover a range up to 12" x 12" with thicknesses from .005" to .190".

The square and rectangular washers complement diverse fastening applications. With their flat sides, square and rectangular washers are designed to prevent rotation and fit in restricted spaces that do not accommodate round washers. They are commonly used in construction, machinery, and automotive applications.

Boker's manufactures square and rectangular washers to customer specifications, offering options in more than 2,000 commonly specified and difficult-to-find materials, including metallic and non-metallic materials. Metallic material selections include low-carbon sheet steel, various spring steels, stainless steel, aluminum, brass, copper and nickel silver. Non-metallic material options include ABS, acetal, polyester, nylon, nylon MD, polycarbonate, fiber, polyethylene and various NEMA grade laminates.

Manufactured to order, with quick delivery turnarounds, Boker's offers endless washer possibilities to suit a wide range of application needs. For a quote on square and rectangular washers please fill out our fast quote form.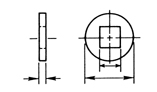 Square Hole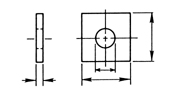 Square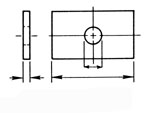 Rectangular