Special Washers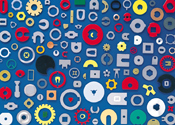 Special washers are defined by their non-circular inside and/or outside shapes. Boker's manufactures a wide variety of common special washers including C washers, D washers, tab washers, conical washers, wave spring washers and notched washers. Boker's also manufactures unique custom special washers to your exact specifications from your prints. Special washers can be manufactured in size up to 12" x 12" flat with thicknesses from .005" to .134".
Special Flat Washers
Special flat washers are like standard flat washers in that they are flat and used for similar applications (load distribution, spacing, locking, shock absorption/vibration dampening and decorative applications) but have non-cicular inside and/or outside shapes.
To obtain a quote for special washers please fill out our fast quote form.