Custom Stampings and Special Washers for the Appliance Industry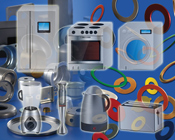 Boker's has been stamping custom parts and components from metallic and non-metallic materials for the appliance industry for over 100 years. This experience has provided Boker's with the most efficient and effective methods for producing custom stamped appliance components for a wide variety of appliance applications.
Boker's has manufactured custom washers and stampings for a diverse list of appliances, including:
air conditioner units
barbecue grills
blenders
cameras
can openers
coffee grinders
copiers
dish washers
dryers
edgers
fans
food processors
freezers
furnaces
garbage disposals
heaters
humidifiers
lawn mowers
leaf blowers
mixers
refrigerators
sewing machines
stoves
toaster ovens
ventilation hoods
washing machines
Manufacturing Capabilities for Custom Stamped Appliance Components
Boker's in-house tool department, wire EDM, 68 punch presses and years of experience provides the expertise needed to develop custom tooling and manufacture your appliance components.  Whether it's flat blanking, piercing, metal forming, deep drawing or progressive stamping necessary to manufacture your appliance part Boker's has the expertise to provide precision stampings to your exact specifications.  Custom stamped appliance parts and components can be produced from a material size up to 12″ x 12″ flat with a material thicknesses from .005″ to .190″.  Draws can be produced up to 3″ deep and 8″ in diameter.  This versatility provides Boker's with the ability to stamp a wide variety of appliance components and parts, including:
Assemblies
Brackets
Cans
Cams
Caps
Cases
Covers
Cups
Enclosers
End Caps
Fender Washers
Flat Washers
Funnels
Frames
Guards
Hardware
Hinge Plates
Housings
Mounting Clips
Mounts
Shim Plates
Slide Rails
Spacers
Special Washers
Supports
Tab Washers
To accommodate the diverse applications and demanding requirements of the appliance industry Boker's has immediate access to over 2,000 commonly specified and difficult-to-find material options. Metallic material options include low-carbon sheet steel, various spring steels, stainless steel, aluminum, brass, copper and nickel silver. Non-metallic options include ABS, acetal, polyester, nylon, MD nylon, polycarbonate, fiber, polyethylene and various NEMA grade laminates. With quick delivery turnarounds Boker's can manufacture unique component solutions for individual appliance designs fast.
Boker's also provides all the secondary operations to meet the demanding requirements of the appliance industry including deburring, tapping, reaming, counterboring, and spotfacing.  Boker's also has approved vendors for heat treating, plating and non-destructive testing (N.D.I.).
To obtain a quote for your custom appliance stamping project fill out Boker's fast quote form and submit with your production prints.
Return to Industries Served