Made-To-Order Shim Stacks for Powersports & Recreational Vehicle Suspension from Boker's, Inc.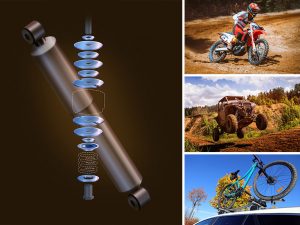 Many people enjoy the thrill and exhilaration of recreational powersports and put their chosen equipment through the paces. With many using their vehicles in demanding off-road conditions, the suspension systems are subjected to heavy abuse and require components that withstand extreme forces and environments while providing safe, long-lasting performance, and a smooth and stable riding experience. These performance demands require lightweight, extreme durability and high-strength parts and components that offer the highest levels of reliability throughout the most extreme conditions.
Boker's has over 100 years of experience producing custom stamped components for various off-road applications including the industry-leading range of non-standard washer, spacer and shim sizes. OEMs recognize the unique qualifications, capabilities and industry-leading quality offered by Boker's, including over 32,000 non-standard washers, spacer, and shim sizes that can be manufactured to exact specifications with no tooling charges.
In particular, valve shim stacks from Boker's offer unsurpassed surface finishing to accommodate a wide range of recreational, off-road, automotive and industrial applications. Their valve shim stacks feature exact and consistent thicknesses, inside diameters, and outside diameters. Custom shims and washers can be manufactured with outside diameters ranging from .080" to 12" and material thicknesses from .005" to .190" (varies by material) to satisfy virtually any shim stack application, ranging from simple to complex. Additionally, Boker's custom stamping offerings include flat blanking and piercing in sizes up to 12? x 12?, complex metal forming in thicknesses that vary by material from .005? to .190? and draws up to 3? deep and 8? in diameter.
"The recreational vehicle industry is rapidly growing and constantly adapting to riders' specific needs and changing terrains," said Tony Kersey, Communications Director. "As design engineers evolve and develop new products and concepts for recreational vehicles, the process will often require custom metal stampings and riders will continue to rely on a robust suspension system."
Bicycles
Motorcycles
Dirt Bikes
ATVs
UTVs
Side x Sides
Snowmobiles
Track Racing
Truck Racing
Off-Road Racing
And many more
Boker's products are commonly used throughout the build of recreational vehicles including transmissions, drivetrain and seat assemblies, floats, enclosures, brackets, vibration dampening and valve shim stacks for suspension systems, just to name a few.
With Boker's, OEMs get immediate access and experience with over 2,000 commonly used and hard-to-find material choices to meet the needs of the outdoor recreational market, including metallic or non-metallic options, low-carbon sheet steel, numerous super alloys, stainless steel, various spring steels, aluminum, brass, beryllium copper, phosphor bronze and nickel silver. Non-metallic materials available include ABS, acetal, polyester, nylon, MD nylon, polycarbonate, fiber, polyethylene and NEMA-grade laminates.
Equipped with in-house secondary operations, Boker's can meet the demanding finishing requirements of the powersports industry including deburring, tapping, reaming, counterboring, and spotfacing. To ensure reliable performance, shim stacks are often hardened to improve mechanical properties. Boker's shims are used to achieve precise spacing or to fill space between mismatched components, ensuring continuous operation.
With unmatched experience and expertise, leading size and material selection, high-capacity production and quick order turnaround, Boker's delivers high-quality, custom solutions, fast and economically in short, medium and long runs. Use their easy on-line specification engine to find your tooling size, thickness and material requirements for millions of configurations. To quote your custom stamping project, complete the Boker's fast quote form and upload your CAD files or production prints.