Custom Washers and Stampings for the Aerospace Industry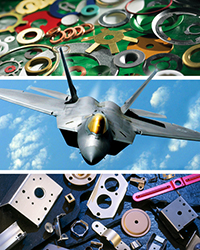 Boker's provides custom stamped parts and components to accommodate nearly any aerospace and aviation application. Those applications include avionics, flight control systems, airframes, engines, hydraulic, pneumatic and other aviation equipment that require specific, unique specifications.
The highest international measure of quality and safety in the aviation, space and defense industries is SAE Aerospace Quality Standard AS9100 rev D. Boker's Quality Management System holds this stringent designation along with ISO 9001:2015, and can comply with DFARS and RoHS, with the ability to manufacture to customer provided AN, NAS, MS and MIL spec standards.
Custom washers are available in outside diameters ranging from .080 inches to 12 inches with material thicknesses as low as 0.0005″. Boker's custom stamping offering includes flat blanking and piercings in sizes up to 12″ x 12″ metal forming in thicknesses from .005″ to .190″ (varies by material) and draws up to 3″ deep and 8″ in diameter. Material choices include 2,000 metallic or non-metallic options, low-carbon sheet steel, various super alloys, stainless steel, aluminum, brass, copper and nickel silver. Non-metallic materials include ABS, acetal, polyester, nylon, MD nylon, polycarbonate, fiber, polyethylene and NEMA grade laminates.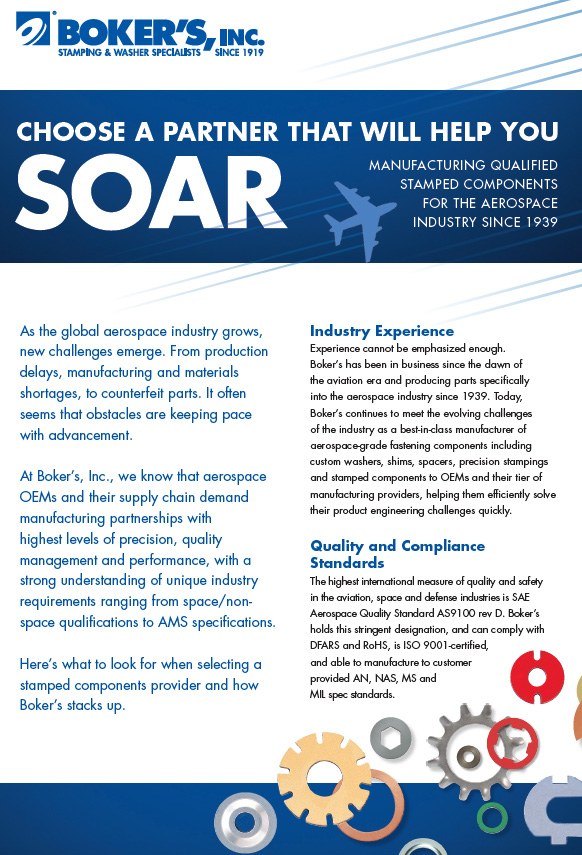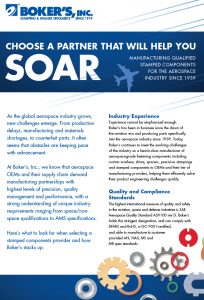 Boker's also provides thousands of non-standard washers and spacers that can be manufactured to suit multiple aerospace products with no tooling charges. Combined with a variety of washer and spacer customization options-including size, thickness, metallic and non-metallic materials, and production levels-millions of possibilities are available.
Boker's also provides all the secondary operations to meet the demanding requirements of the aerospace and aircraft industries including deburring, tapping, reaming, counterboring, spotfacing, and metrology services, plus availability of heat treating, plating and non-destructive testing services (N.D.I.).
As the global aerospace industry grows, new challenges emerge. From production delays, manufacturing and materials shortages, to counterfeit parts, it often seems that obstacles are keeping pace with advancement. At Boker's, Inc., we know that aerospace OEMs and their supply chain demand manufacturing partnerships with highest levels of precision, quality management and performance, with a strong understanding of unique industry requirements ranging from space/non-space qualifications to AMS specifications.
Read our"How to Choose an Aerospace Partner"PDF to learn what to look for when selecting a stamped components provider and see how Boker's stacks up.
To obtain a quote for your custom aerospace stamping or aircraft stamping project fill out Boker's fast quote form and submit with your production prints.