Plastic/Non-metallic Stampings
Boker's is a stamping manufacturer of flat plastic parts and components manufactured to your specific standards. Boker's has immediate access to a wide variety of plastic/non-metallic materials including ABS, acetal, fish paper, FR-4, G-10, linen phenolic, MD Nylon, nylon, polypropylene, polyester, PTFE, PVC and many more.
Boker's has the capabilities to manufacture your most complex plastic stampings in a range of sizes up to 5" x 7" (flat) with thicknesses from .005" to .125".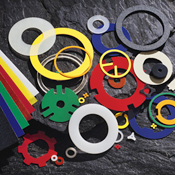 To obtain a quote on your next plastic stamping project fill out Boker's fast quote form and submit with your production prints.