Volume 85 | 1st Quarter 2023
Boker's 2023 Catalog Now Available!
An industry guide for design engineers and purchasing teams.
The new Boker's 2023 catalog is an all-inclusive guide to over 32,000 stock tools for flat washers, spacers and shims – including 156 new sizes recently added. With Boker's expansive line of made-to-order washers, customers can choose from a variety of sizes, thicknesses and materials with no tooling charges.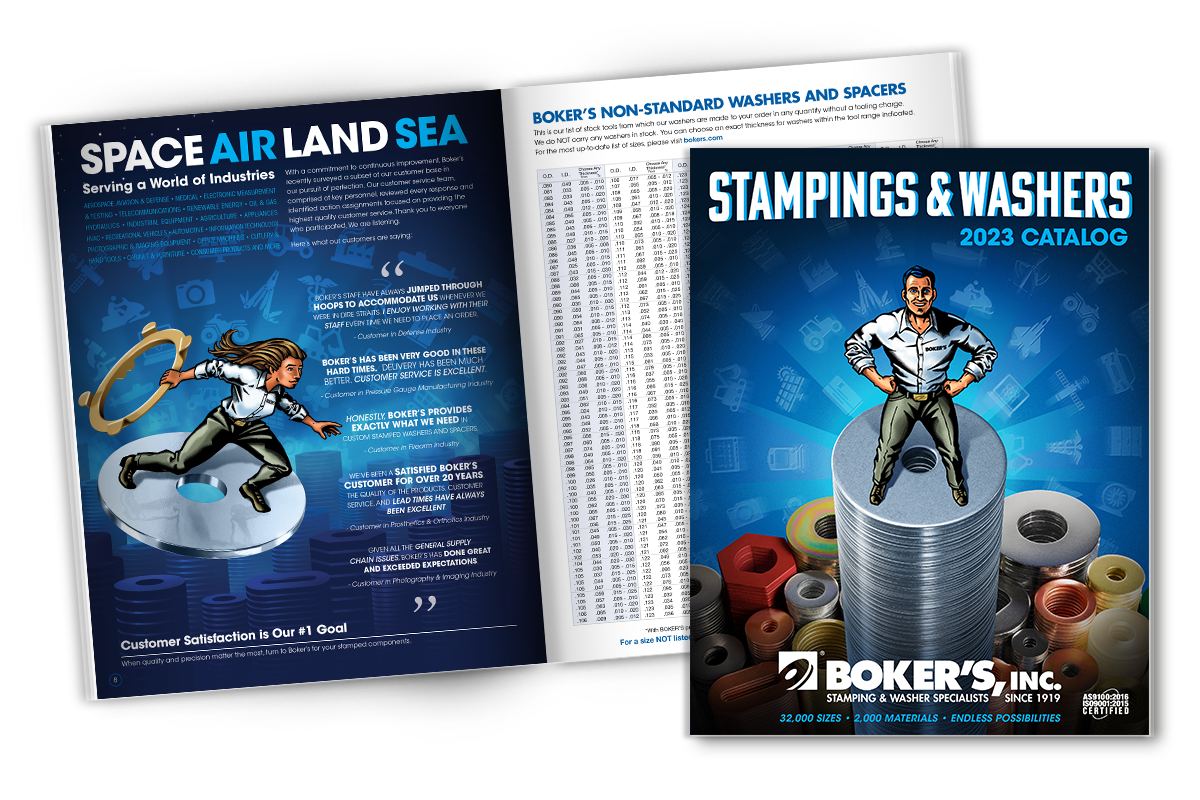 Boker's FAST DELIVERY
For over 100 years Boker's has taken pride in our ability to provide world-class Quality, Delivery and Customer Service. The past few years, the global supply chain has struggled to keep up with demand. We are thankful to have our delivery challenges behind us as we continue to maintain the FAST DELIVERY we are known for.
Reach out today to see how quickly we can manufacture your application-specific order.
The Designers Guide to Precision Metal Stampings
This quick reference piece is a must-have for the OEM design engineer. Covering considerations around flat blanking, piercing, metal forming or deep draws, this valuable guide takes the reader through the basics of metal stampings and the various stamping operations. Design considerations are included to help OEM design engineers when thinking about the parts and components they need to produce. This resource is available for free in both English and Spanish.
Upcoming Trade Shows:
Boker's, Inc. maintains an A+ Rating with the Better Business Bureau, which is a reflection and the opinion from our customers on how Boker's, Inc. staff interacts with customers.
PMA Business Conditions Report: Jan 23, 2023
CLEVELAND, OH—January 23, 2023—Metalforming companies forecast little change in economic activity for the first quarter of 2023, according to the January 2023 Precision Metalforming Association (PMA) Business Conditions Report. Prepared monthly, the report provides an economic indicator for the next three months of manufacturing, sampling 122 metal forming companies in the United States and Canada.
PMA's January report shows that 11% of metalforming companies predict an increase in general economic activity in the next three months (compared to 10% in December), 59% expect no change in activity (compared to 57% last month) and 30% anticipate a decrease in activity (down from 33% in December).
Copyright © 2023 Boker's, Inc.