Stamping Memories with Commemorative Coins and Medals from Boker's, Inc.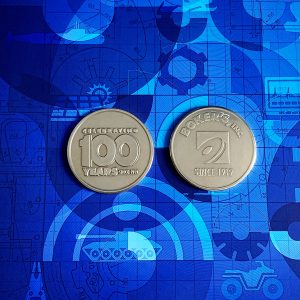 Celebrate and honor major milestones or anniversaries with custom-stamped commemorative coins from Boker's, Inc. As a lasting memento, commemorative coins honor people, achievements, places, events or institutions on significant occasions. Stamping these coins in semi-precious metals is both an art and a science; providing a commemorative coin to family, friends, team members, donors or other interested parties bestows a tangible tribute to the milestone achieved or the memory honored.
Moments that are made into lasting memories are as broad as the groups that choose to use them. From military units, law enforcement and firefighters, to museums, nonprofits, cultural organizations, and academic or private institutions, commemorative, one-of-a-kind coins will be cherished by the receiver as well as their supportive families, friends and other interested parties.
Details matter when it comes to commemorative coins. Craftsmanship is front and center as is the metal chosen for the coin or medal. Many organizations often select from bronze, brass, copper, steel, stainless steel or aluminum for their base material; however, there any many options to choose from as well as a variety of plating options including gold, silver, chrome and many more. Choose a partner that can offer dependable quality and excellent detail that is worthy of the significance of the occasion being commemorated. Custom-made coins and medals that have consistently sharp impressions on preferred metals will provide individuals and teams a unique recognition and a morale boost.
Boker's celebrated their 100th Anniversary last year with a variety of events culminating in a celebration with current and past employees and families. As a token of appreciation, each person in attendance was presented with a Boker's 100th Anniversary commemorative coin to show gratitude for their contribution to this significant milestone.
With unmatched experience and expertise, Boker's delivers high-quality, custom solutions for commemorative coins and medals, in short, medium and long runs. Boker's is also equipped with extensive in-house secondary operations to meet the demanding finishing requirements. Boker's covers a complete range of stamping sizes up to 12" x 12" (flat) with thicknesses from .005" to .190" (varies by material) and draws up to 3" deep and 8" in diameter.
If you are interested in celebrating an anniversary, commemorating a milestone, event or mission, consider turning to Boker's to manufacture a custom coin to add that finishing touch to your special occasion. To quote your custom coin project, complete Boker's fast quote form and upload your CAD files or production prints.