Precision Made-to-Order Components Helping Drive Innovation in the Energy Industry.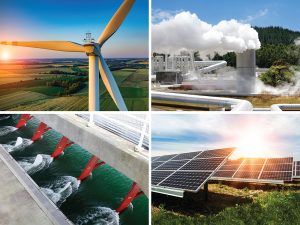 The energy industry requires, first and foremost, reliability in the operation of their systems. Components large and small make up vast and complex mechanical solutions that are collectively linked to power grid infrastructure, or independently relied upon for critical off-grid power needs. Many of these systems are located in remote areas and minimizing service interruptions requires components manufactured with extreme durability, precision, repeatability and quality to create systems that are robust and dependable in operations.
In these critical applications, this focus extends to the smallest details, including critical stampings, washers, spacers and shims that reduce friction on moving parts, provide strain relief, ensure the integrity of connected surfaces in vibration-prone applications, and precisely align moving and rotating components to operate efficiently and reliably. In a host of energy applications, OEMs, distributors, installers and Maintenance Repair Organizations (MROs) rely upon the precision capabilities and experience of Boker's, Inc.
For over 100 years, Boker's has served the needs of the energy sector from the early stages of oil & gas, electrical power, turbine energy, and over the decades of grid and distribution systems development. As new forms of energy generation and storage evolve, Boker's continues to serve a key role in manufacturing to the unique requirements of emerging technologies and innovations, including developments in wind and solar, tidal energy, geothermal, biomass and other sustainable solutions.
Today, a number of solar panel innovators rely on Boker's to manufacture a variety of components such as precision-stamped mounting brackets for portable and removable or mobile-based solar panel systems, to variable-position panels featuring single and dual-axis technology. Boker's manufactures critical friction-reducing spacers and alignment shims in a number of industrial axial and rotating shaft-based systems including turbines, motors, cooling, load bearing systems and more. Virtually all of these systems share common requirements for tight-tolerance precision and robust durability in extreme environments. From the corrosive effects of saltwater and the punishment of UV radiation, to temperature extremes and extraordinary vibration and rotational service cycles, these components are subjected to conditions that far eclipse the worst of what are found in common industrial environments.
That's where the manufacturing and materials experience of Boker's is a valuable asset to these trailblazing technologies. Boker's selection, immediate access and experience with over 2,000 commonly used and hard-to-find material choices is unmatched. This vast materials array includes metallic or non-metallic options, metallic options include low-carbon sheet steel, numerous super alloys, galvanized steel, stainless steel, aluminum, brass, beryllium copper, phosphor bronze and nickel silver. Non-metallic materials available include ABS, PTFE, nitrile, acetal, polyester, nylon, MD nylon, polycarbonate, fiber, polyethylene, NEMA-grade laminates and many others. In the energy industries, numerous specifications and characteristics for material hardness, durability, corrosion-resistance, temperature range, resilience, wear resistance and more factors come into play, and Boker's is equipped to manufacture customer-specified solutions that perform in diverse and demanding environments.
Along with the millions of possibilities offered by our extensive range of non-standard stock tool sizes, OEMs and MROs alike rely on Boker's for manufacturing their proprietary parts, custom components and specialized requirements, manufactured to required tolerances and the highest quality. Boker's has unique part and component fabrication experience in a broad range of applications and can provide valuable insight to help reduce costs by meeting critical features using the stamping process. These solutions include:
Custom metal forming in thicknesses from .005" to .190" (varies by material)
Compound and progressive stampings
Exotic metallic and non-metallic stampings offering a wide range of performance characteristics
Numerous styles of non-standard custom washers and retainers, including Unistrut mounting
Custom spacers and shims in numerous materials to ensure alignment and secure retention in motion-based, oscillating and high-vibration applications
Boker's is also equipped with extensive in-house secondary operations to meet the demanding finishing requirements and tolerances of the most demanding applications, including deburring, tapping, reaming, counterboring, and spotfacing, plus trusted approved suppliers for heat treating, plating and non-destructive testing (N.D.I.). Boker's maintains a Quality Management System (QMS) which is AS 9100:2016 and ISO 9001:2015 certified and has Statistical Process Control (SPC) available, 3D printed rapid prototyping to validate designs and to help OEMs quickly and efficiently solve their product engineering challenges.
With unmatched experience and expertise, leading size and material selection, high-capacity production and quick order turnaround, Boker's delivers high quality, custom solutions for the most complex requirements, fast and economically, in short, medium and long runs. Use Boker's easy on-line specification engine to find your tooling size, thickness and material requirements for millions of configurations. To quote your custom stamping project, complete Boker's fast quote form and upload your CAD files or production prints
To obtain a quote for your custom stamping project fill out Boker's fast quote form and submit with your production prints.