Metal Stampings Services
Boker's is a metal stamping manufacturer of custom parts and components manufactured to your specific standards.  With stamping experience that dates back to 1919 and metal stamping equipment that includes CAD/CAM drawing systems, wire EDM Machines, CNC Lathes, progressive tooling, and 68 punch presses– Boker's has the capabilities required to manufacture your most complex metal stampings.  Whether your job is a short run that requires one stage or a long run of stampings that requires progressive tooling and secondary operations Boker's can assure your products are manufactured effectively and efficiently.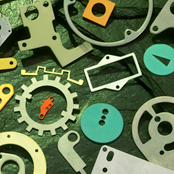 Metal stamping, blanking and piercing up to 12″ x 12″ flat.
Metal Stamping Materials:
Boker's has immediate access to over 2,000 commonly specified and hard to find materials such as aluminum, brass,copper, nickel-silver, stainless steel, low carbon, cold rolled strip steel; SAE 1050, 1075, and 1095 spring steel; blue and black temper spring steel; low alloy steel sheets; beryllium copper; phosphor bronze; and many more.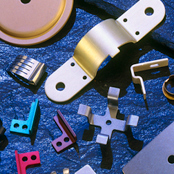 Metal stampings and forming metal thicknesses from .005″ to .190″.
Metal Stamping Capabilities:
Boker's metal stamping capabilities covers a range of sizes up to 12" x 12" (flat) with thicknesses from .005″ to .190″ and deep drawing up to 3" deep and 8 " in diameter.
Metal Working Secondary Operations:
Boker's provides the secondary operations you require including deburring, tapping, reaming, counterboring, and spotfacing, to name a few. Boker's also has approved vendors for heat treating, plating and non-destructive testing (N.D.I.).
To obtain a quote on your next metal stamping project fill out Boker's fast quote form and submit with your production prints.
Additional metal stamping information:
Metal stamping capabilities
Progressive Metal Stampings
Metal Stamping Equipment List
Metal Stamping Brochure
Metal Stamping Terms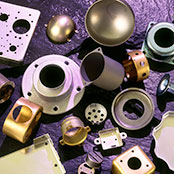 Custom metal stamping and deep draws up to 3′ deep and 8′ in diameter.