Custom Shims for Diverse Industry Applications
Boker's provides an extensive offering of shims, in a variety of sizes and materials to meet diverse industry needs. Used to achieve precise spacing or fill space between mismatched components, shims are a critical component to a variety of assembly operations and applications.
For ideal performance and suitability, shims can be custom manufactured to meet exact specification, with sizes up to 12" x 12" (flat) with thicknesses from .005″ to .190″, to accommodate virtually any application requirement, from the simplest of applications to the most complex shim stack.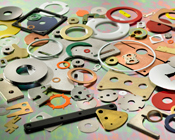 Aircraft/Aerospace Shims
Appliance Shims
Bearing Shims
Hinge Shims
Valve Shims
Wheel Shims
In addition to the materials noted above, Boker's offers shims in the widest selection of commonly specified and difficult-to-find materials.  In all, Boker's has immediate access to over 2,000 materials.
To  obtain a quote for shims please fill out our fast quote form.
Additional Custom Metal Stampings
Additional Custom Washers