Adhesive Backed Washers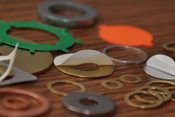 Boker's can manufacture washers with adhesive tape applied to one side of the washer. The adhesive tape has paper that can be easily removed allowing the adhesive side of the washer to be exposed for easy mounting and assembly. Adhesive backed washers can be provided in a wide variety of metallic and non-metallic materials.

To obtain a quote for adhesive backed washers please fill out our fast quote form.