Latest Boker's News

Boker's Provides Dental Company with Stampings

An accidental meeting between Herman Garmers and J.P. Boker resulted in a complex stamping solution and a business partnership that has lasted over 85 years.
Read more
---

Boker's 2019 Stampings and Washers Catalog Now Available

This year's commemorative catalog is a combination of their stampings and washers capabilities, including a special section celebrating their 100th anniversary, featuring an overview of Boker's rich history, significant milestones and memories from employees throughout the years.
Read more
---

Boker's 2019 Scheduling Calendar Now Available

Boker's easy-to-navigate 15-month complimentary calendar provides a comprehensive at-a-glance view of the 65-week scheduling guide, including boldly identified Sundays and holidays in red. A handy metric conversion chart is included on the back side.
Read more
---

Boker's Adds Over 500 New Sizes to Comprehensive Washer Offerings

Boker's, Inc. has added 512 new flat washer sizes to its extensive offering. These additions expand its production capacity for a wide range of applications and industries. With the addition of new sizes, Boker's offers an expansive line of over 32,000 non-standard washer, spacer and shim sizes with no tooling charge.
Read more
---

Boker's Announces Expansion of Manufacturing Facilities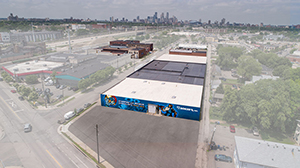 In response to their growing customer needs Boker's acquired a building that provides an additional 66,500 square feet of manufacturing space to their current manufacturing facitilities. The expansion project began in March 2018 and is projected to be completed by December 2018.
Read more
---

Boker's 2018 Stamping Brochure is Now Available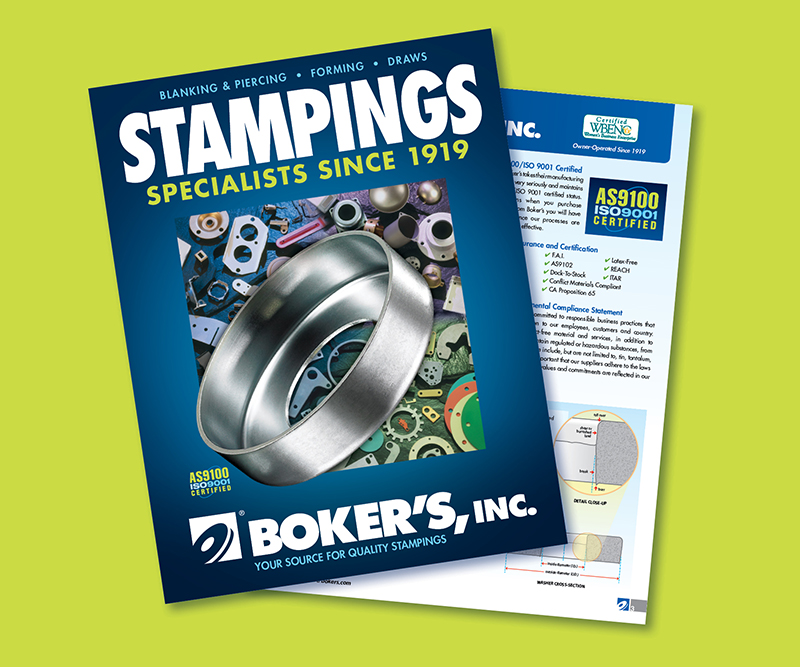 Boker's announces its 2018 Stampings Brochure is now available. Serving as a valuable industry resource, the brochure provides a comprehensive overview of the company's stamping capabilities.
Read more
---

Made-to-Order Stampings and Washers for Recreational Vehicle Manufacturers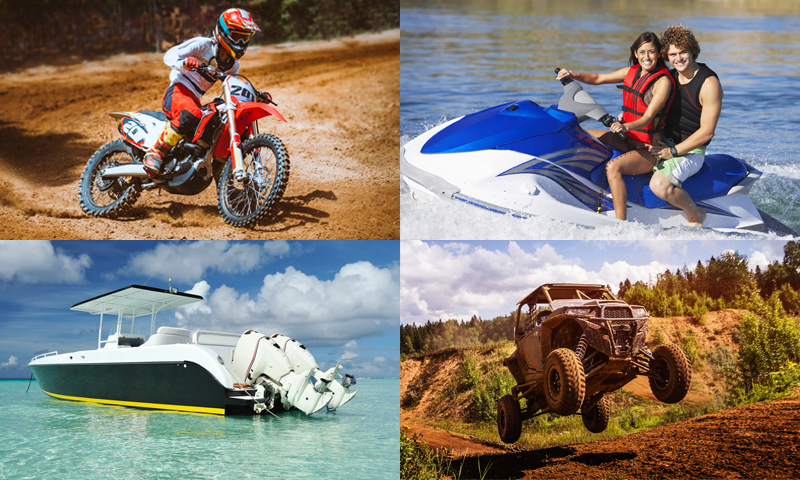 Boker's, a metal stamping manufacturer of precision metal stampings, washers, spacers and shims, expands its capabilities for stampings and washers in recreational vehicle applications.
Read more
---

Custom D–Washers Available from Boker's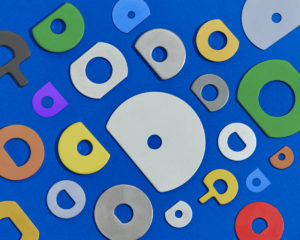 Boker's offers custom D–washers to its customers. D–washers provide a flat bearing surface and are used under the head of a bolt and / or a nut to disperse loads as well as prevent the washer from turning in the application. They are generally mounted with the flat edge of the washer facing a flat surface or recessed hole.
Read more
---

Customized C–Washers Available from Boker's
Boker's offers custom C–washers to its customers. C–washers obtain their name for being in the shape of a "C" as they have a slot cut from the center to the perimeter allowing the washer to be removed, replaced or inserted without completely removing the fasteners.
Read more
---

Boker's 2018 Washers Catalog Now Available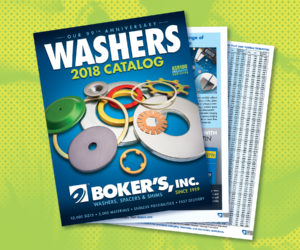 Minneapolis, MN—November 14, 2017—Boker's Inc. announces that its 2018 Washers Catalog is now available. This 64-page manual offers an all-inclusive reference guide for flat washer selection as well as detailed information on the company's more than 32,000 non-standard flat washer tools.
Read more
---

Boker's 2018 Scheduling Calendar with Metric Conversion Chart Now Available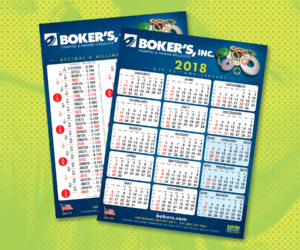 Minneapolis, MN—November 1, 2017—Boker's, Inc. announces its 2018 Calendar and Conversion Chart is now available. Designed for quick and convenient scheduling, the 15-month complementary calendar provides a comprehensive at-a-glance view of the 65-week scheduling guide including boldly identified Sundays and holidays in red.
Read more
---

Boker's Adds 700 New Sizes to Comprehensive Washer Offerings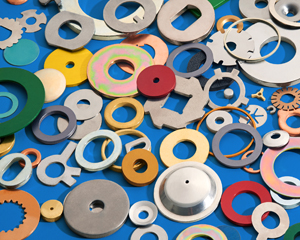 Boker's, Inc. has added 700 new flat washer sizes to its extensive offering...
Read more
---

Boker's Expands Manufacturing Capabilities for Dome Washers
Minneapolis, MN—July 25, 2017—Boker's, a metal stamping manufacturer of precision metal stampings, washers, spacers and shims, expands capabilities for dome washer applications.
Read more
---

Boker's Expands Washer Offering With 737 New Sizes to Enhance Production Capacity...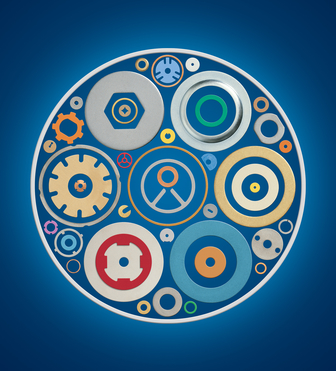 Boker's, Inc. has added 737 new flat washer sizes to its offering to further accommodate a large range of applications and industries.
Read more
---


Boker's Enhances Production Capacity for Long Runs...
Boker's has expanded their stamping and washer production capabilities to ensure quick turnaround on long runs.
Read More
---
Bokers Inc. announces its extensive manufacturing capabilities of spacers to accommodate a wide range of applications across virtually any industry.
Read More

---

Custom Stampings for the Aerospace Industry
Boker's, Inc. has qualified for the SAE Aerospace Quality Standard AS9100, the highest international measure of quality and safety in the aviation, space and defense industries.
Read More
---
Boker's 2014 Washer Catalog Now Available!
This This 60-page handbook provides a comprehensive reference guide for flat washer selection.
Press Release
Printed Catalog
Download PDF Catalog
---
Boker's 2014 Calendar Now Available
Boker's easy-to-use, one-page scheduling tool with convenient metric conversion chart is now available.
Press Release
Printed Calendar
Download PDF Calendar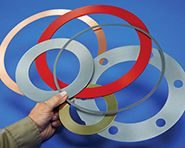 ---
Washer Sizes up to 12" in Diameter:
Boker's capabilities include flat washers and custom shapes such as tab and notched washers that are created to meet your exact specifications. Sizes up to 12" in outside diameter. Read more.


---
608 New Flat Washer Sizes!
Once again we've expanded our selection of non-standard flat washer sizes.
Read more.
---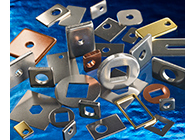 Square Washers:
Boker's, Inc. announces that its vast manufacturing capabilities include non-standard square and rectangular washers. Non-standard square and rectangle flat washers cover a range up to 12" x 12" with thicknesses from .005" to .135". Read More.


---

Boker's Proudly sponsors Jerick Johnson and the POW*MIA awareness campaign. Jerick is the driver of the #76 POW*MIA Freedom Car. Read More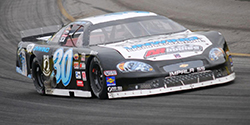 ---
Get exactly what you need, shipped in 5 days or less!
Currently Boker's has the capacity to ship your specific washer orders—in short, medium or large runs—in 5 days or less.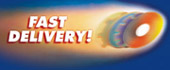 For a immediate quote on the exact size you need, contact Boker's today:
Toll-Free 800-927-4377
Local Phone 612-729-9365
Washer Quote Form