Boker's is a metal stamping manufacturer of aluminum products and components. Custom metal stampings made from aluminum or aluminum alloy are much lighter than steel. Aluminum stampings are also recyclable and more corrosion resistant than plain carbon steel stampings.
Boker's has the capabilities to manufacture your most complex aluminum stampings in a range of sizes up to 12" x 12" (flat) with thicknesses from .005″ to .190″ and aluminum deep draws of up to 3" deep and 8" in diameter.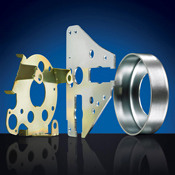 Common aluminum materials available for stamping include:
Aluminum 1100
Aluminum 2024
Aluminum 3003
Aluminum 5052
Aluminum 6061
Aluminum 7075
Additional aluminum and aluminum alloy options available from Boker's upon request.
To obtain a quote on your next aluminum metal stamping project fill out Boker's fast quote form and submit with your production prints.