Boker's is a metal stamping manufacturer of brass products and components. Custom metal stampings made from brass (an alloy of copper and zinc) are often used for decorative items. Most brass grades are easily blanked, pierced, formed and deep drawn. Depending on the brass grade used, brass will vary in the degree of electrical conductivity, corrosion resistance, surface smoothness, and it's response to chemicals, heat and plating. Brass is impervious to most common conditions except for extended exterior exposure and abrasion.
Boker's has the capabilities to manufacture your most complex brass stampings in a range of sizes up to 12" x 12" (flat) with thicknesses from .005″ to .190″ and brass deep draws of up to 3" deep and 8" in diameter.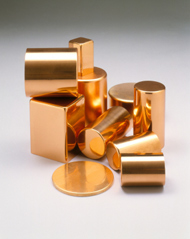 To obtain a quote on your next aluminum metal stamping project fill out Boker's fast quote form and submit with your production prints.