Nickel Silver Metal Stampings
Boker's is a metal stamping manufacturer of products and components made from nickel silver. Nickel silver is a metal alloy of copper with nickel and often, but not always, zinc. It is named for its silvery appearance, but contains no elemental silver unless plated. Other common names for this alloy are German silver, paktong, new silver, and alpaca silver.
Boker's has the capabilities to manufacture your most complex nickel silver stampings in a range of sizes up to 12" x 12" (flat) with thicknesses from .005″ to .190″ and nickel silver deep draws of up to 3" deep and 8" in diameter.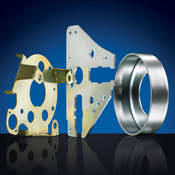 Common nickel silver materials available for stamping include:
Nickel Silver 752
Nickel Silver 762
Nickel Silver 770
Boker's can also provide additional nickel silver options upon request.To obtain a quote on your next nickel silver metal project fill out Boker's fast quote form and submit with your production prints.