Spring Steel Metal Stampings
Boker's is a metal stamping manufacturer of spring steel products and components. Spring steel is a low alloy, medium carbon steel with very high yield strength.
Boker's has the capabilities to manufacture your most complex spring steel stampings in a range of sizes up to 12" x 12" (flat) with thicknesses from .005″ to .190″ and spring steel deep draws of up to 3" deep and 8" in diameter.
Common spring steel materials available for stamping include:
Spring Steel 1050
Spring Steel 1070
Spring Steel 1074
Spring Steel 1075
Spring Steel 1095
Spring Steel 4130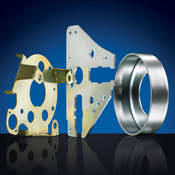 Boker's can also provide additional spring steel options upon request.
To obtain a quote on your next spring steel metal project fill out Boker's fast quote form and submit with your production prints.