Boker's is a stamping manufacturer of ABS products and components. Acrylonitrile Butadiene Styrene, or ABS, Excellent impact resistance. UL rated slow burning. Not affected by moisture. Good resistance to most chemicals and solvents. Electrical properties remain constant over a wide range of frequencies. ABS can be punched, formed, sheared, cemented and welded.
Boker's has the capabilities to manufacture your most complex ABS stampings in a range of sizes up to 12" x 12" (flat) with thicknesses from .031" to .125"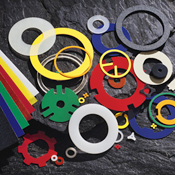 To obtain a quote on your next ABS stamping project fill out Boker's fast quote form and submit with your production prints.