Boker's is a stamping manufacturer of Nylon products and components. Nylon (Polyamide) is considered to be the first engineered thermoplastic and one of the most commonly used polymers. Nylon is abrasion and impact resistant. Low coefficient of friction.
Boker's has the capabilities to manufacture your most complex nylon stampings in a range of sizes up to 12" x 12" (flat) with thicknesses from .010" to .125".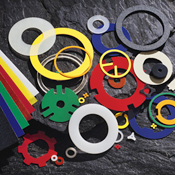 To obtain a quote on your next ABS stamping project fill out Boker's fast quote form and submit with your production prints.