Boker's is a stamping manufacturer of polypropylene products and components. Polypropylene is one of the most versatile polymers. Known for having a high melting point, 320°F and 120°C, polypropylene products are often used within higher working temperatures. Polypropylene is light in weight and has a high resistance to stress and cracking (high tensile and compressive strength). Polypropylene is also resistant to most alkalis, acid, degreasing agents, organic solvents and electrolytic attack.
Boker's has the capabilities to manufacture your most complex polypropylene stampings in a range of sizes up to 12" x 12" (flat) with thicknesses from .010" to .125".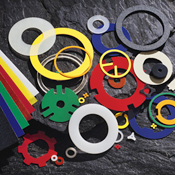 To obtain a quote on your next ABS stamping project fill out Boker's fast quote form and submit with your production prints.