Boker's Bulletin | Volume 67
Volume 67 | 3rd Quarter 2018
Meet Chuck and Learn About Boker's Capabilities
2018 Stamping Brochure Now Available!
Serving as a valuable industry resource, the brochure provides a comprehensive overview of Boker's stamping capabilities. With nearly 100 years of experience in precision metal stamping production, Boker's satisfies complex, intricate stamping applications.
Designed as a quick-reference tool, the Stampings Brochure contains a glossary of more than 100 common terms and a base element index, as well as a gauge decimal equivalents chart.
Request a Stamping Brochure Here
Boker's Announces Expansion of Manufacturing Facilities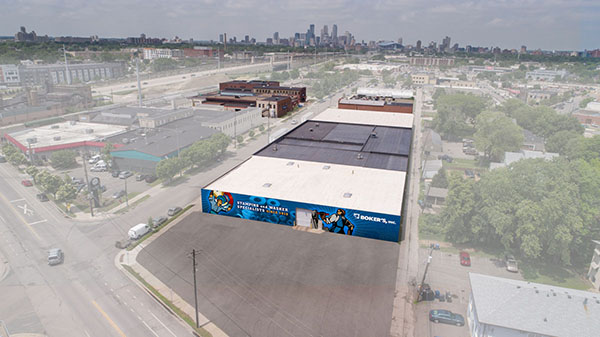 In response to growing customer needs Boker's announces the expansion of their manufacturing facilities. The expansion project began in March 2018 and is projected to be completed by December 2018.
Boker's manufacturing facilities are currently housed in nearly 100,000 square feet of buildings. The newly acquired building, adjacent to their current facility, will add an additional 66,500 square feet of manufacturing space.
Learn More About Boker's Expansion Here
Boker's Continuous Manufacturing Process Improvement
Here at Boker's we strive to keep our manufacturing process on the leading edge by continuously improving technology and manufacturing techniques to provide our customers with the best components available at an economical cost.  In addition to expanding our manufacturing facilities, investing in capital equipment and providing our staff with continous manufacturing education Boker's has maintained AS9100/ISO 9001 certification — currently at the AS9001D(2016) based on ISO 9001:2015 level.
Boker's Adds 512 New Flat Washer Sizes
With these additional sizes, Boker's now offers an expansive line of over 32,000 non-standard flat washer and spacer sizes with no tooling charges.  These tools can be searched by OD and ID online at bokers.com.
Design2Part Show
September 26th and 27th, 2018
Royal Plaza Trade Center
Marlborough, Massachusetts
Booth #536
MD&M Minneapolis
October 31st – November 1st, 2018
Minneapolis Convention Center
Minneapolis, Minnesota
Booth #714
Use our promo code "SPECIAL714" for a free expo pass and 20% off conference pricing.



PMA Business Conditions Report: August 2018

Metalforming companies anticipate an improvement in business conditions during the next three months, according to the August 2018 Precision Metalforming Association (PMA) Business Conditions Report. Prepared monthly, the report is an economic indicator for manufacturing, sampling 112 metalforming companies in the United States and Canada.The August report shows that 29% of participants forecast an improvement in economic activity during the next three months (up from 24% in July), 62% expect no change (compared to 53% last month), and only 9% anticipate a decline in activity (down from 23% in July).Click here for the Full Business Conditions Report
Steel and Aluminum Tariff Updates
Please visit this website to stay up to date on the recently executed steel and aluminum tariffs. We suggest bookmarking this webpage as it is continually updated with the latest information regarding the tariffs.
Giving Back! "Let's Go Fishing" and Boker's Team Up
Boker's is a proud sponsor of the Brainerd Lakes Chapter of "Let's Go Fishing," an organization that enriches the lives of seniors 55 and older and their families through free fishing and boating activities.
Click here for more information