Volume 71 | 3rd Quarter 2019

Boker's, Inc. – IEN Made In America
Boker's started stamping with two people in a basement. Now, the company has more than 125 employees, over 70 punch presses including progressive die presses housed in over 165,000 square feet in Minneapolis, Minnesota.  View IEN's recent Made in America Episode featuring Boker's, Inc.
Boker's Offers New Precision Metal Stampings Guide.
This must-have stamping guide for the OEM Design Engineer is a quick reference for basic stamping considerations when flat blanking, piercing, metal forming or conducting deep draws.  The guide also includes a complete glossary of stamping terms.
View or download the guide at the following URL: bokers.com/stampingguide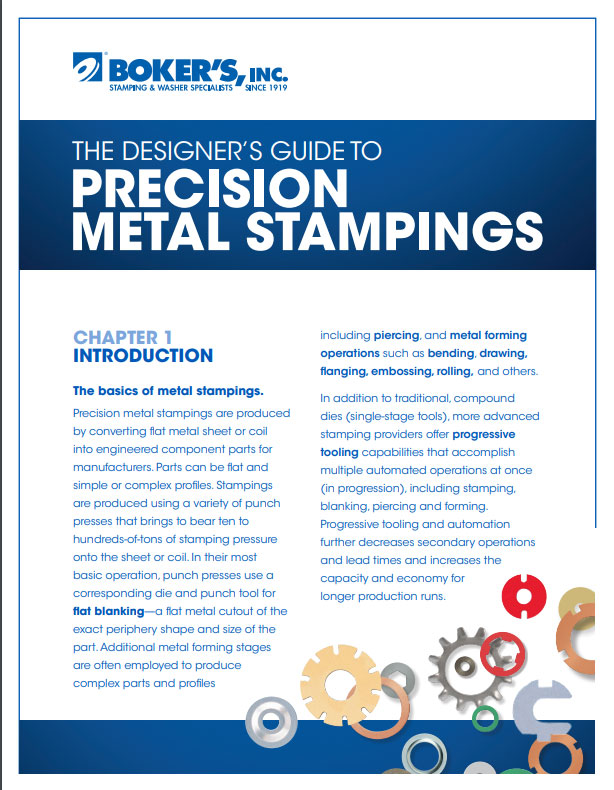 Custom Lock and Tab Washers from Boker's
Boker's offers complete production of non-standard and customized lock washers and tab washers designed to provide secure fastening in your essential applications. These types of washers are vital in applications subjected to vibration, torque, heat or corrosion, providing an additional security measure to restrict threaded nuts, bolts or fastening systems from turning, slipping or loosening under load.
Lock washers are widely used as a reliable method to secure fastening. Common designs include internal tooth, external tooth or combination internal and external tooth designs. Lock washers exert a load, partially deform and lock a fastener in place. Tab washers are an additional form of lock washer that features one or more internal or external notches or tabs designed to hold the nut in place in relation to the connecting bolt or stud.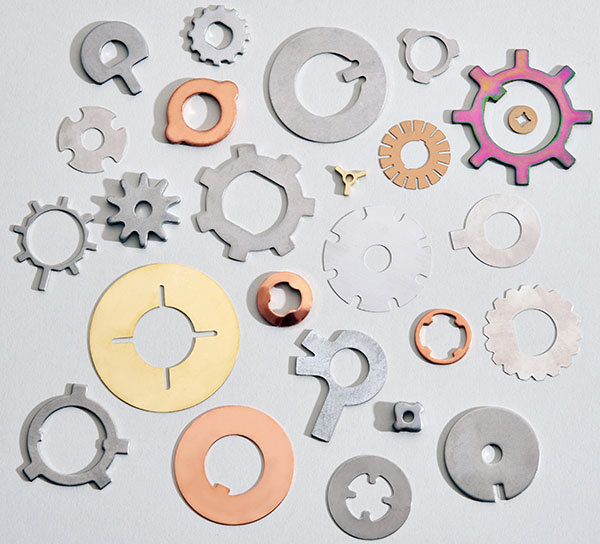 Tabs may be bent or engage into keyways or slots in connected surfaces to provide a positive locking surface. In some applications, they are deployed along with a flat washer in order to distribute the load evenly without deforming the assembly that the fastener is secured to.
Learn more about Boker's capabilities for manufacturing lock and tab washers here.
Boker's Adds 548 New Flat Washer Sizes
With these additional sizes, Boker's now offers an expansive line of over 32,000 non-standard flat washer, spacer and shim sizes with no tooling charges.
These tools can be searched by OD and ID online at bokers.com.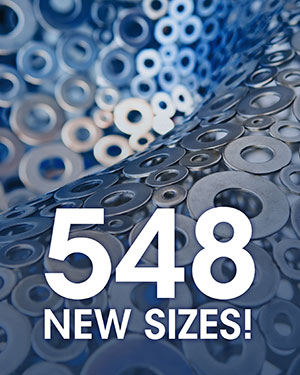 Boker's Calendar Contest – – Winner Announcement!
As a part of our 100th Anniversary celebration in the latest volume of the Boker's Bulletin, we announced our "Oldest Calendar" Contest. We have been producing this Scheduling Calendar and Decimal Equivalent Chart for industry professionals since 1961.  Although a calendar from 1961 was not submitted Boker's did receive multiple submissions in various forms – from black and white scans or color photos, to a collage with multiple years represented, and even a proud selfie!
The winner: a 1986 Calendar which included a fun story which we would like to share: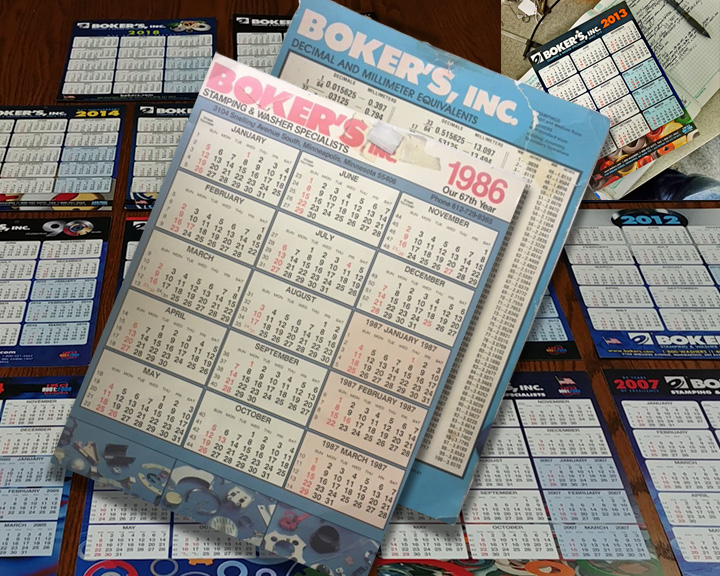 "Here are some images of my trusty 1986 Boker's calendar / decimal and mm equivalents chart. This has had great use over the past 31 years of my career. Not positive how I acquired it. Possibly from my Dad who is a retired mechanical engineer or given to me while I was in technical school for mechanical design. Congrats on the Anniversary!"
Thank you to all who have engaged in our 100th Anniversary Celebration. We are honored to be a part of each of the companies and industries which we serve, generation after generation.
Upcoming Trade Shows:
MD&M Minneapolis
Minneapolis Convention Center, Minneapolis, MN
October 23 & 24, 2019 • Visit Boker's at booth #714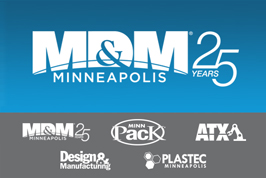 Steel and Aluminum Tariff Updates
Please visit this website to stay up to date on the steel and aluminum tariffs. We suggest bookmarking this webpage as it is continually updated with the latest information regarding the tariffs.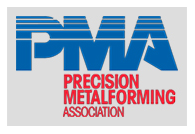 PMA Business Conditions Report: November 21, 2019
According to the November 2019 Precision Metalforming Association (PMA) Business Conditions Report, Metalforming companies continue to forecast a downward trend in economic activity in the coming months, according to the November 2019 Precision Metalforming Association (PMA) Business Conditions Report.
Prepared monthly, the report provides an economic indicator for manufacturing, sampling 100 metal forming companies in the United States and Canada.
The November report showed that 15% of participants predict an improvement in economic activity during the next three months (an increase from 14% in October); 51% forecast no change in activity (compared to 49% in October); and 34% anticipate a decline in activity (a decrease from 37% last month).
Click here for the Full Business Conditions Report
Copyright © 2019 Boker's, Inc.