Boker's Bulletin  |  Volume 72

2020 Scheduling Calendar is Now Available
The Boker's 2020 Calendar and Conversion Chart is now available. Designed for quick and convenient scheduling, this easy-to-navigate 15-month complimentary calendar provides a comprehensive at-a-glance view of the 66-week scheduling guide, including boldly identified Sundays and holidays.
The dual-sided calendar offers a handy metric conversion chart that provides decimal and millimeter equivalents for common measurements ranging from 1/64 to 1 inch and .1 to 100mm.
Boker's is committed to offering convenient tools for industry professional's diverse needs. To access these tools, including the 2020 Calendar and Conversion Chart, please visit bokers.com.
Request a Scheduling Calendar Here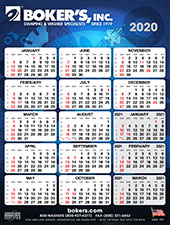 Boker's 2020 Stampings and Washers Catalog Now Available
This 72-page catalog offers a reference guide for over 32,000 stock tools for flat washers, spacers and shims, including 548 new washer sizes, allowing customers to choose from a wide variety of sizes, thickness and materials. The catalog also includes the latest stamping technologies and manufacturing concepts to satisfy standard to complex and intricate stamping application needs. Boker's covers a complete range of sizes up to 12″ x 12″ (flat) with thicknesses from .005″ to .190″ (varies by material) and draws up to 3″ deep and 8″ in diameter.
Request the Stampings and Washers Catalog Here
Boker's – Your Flat Washers Specialists
Boker's has more than 125 employees, over 70 punch presses including progressive die presses housed in over 165,000 square feet in Minneapolis, Minnesota.  View the video above to see why you can put your trust in Boker's for all your flat washer production needs.
Boker's Catalog Contest
To commemorate Boker's 100-year history we're going to hold a few contests to give everyone a chance to win some Boker's branded gifts. This contest centers around our annual catalog that has become a mainstay for OEM design engineers and purchasing teams around the world. It's a go-to resource tool for flat washer selection and stamping information that we've been providing to the industry for over 7 decades. We're always pleased to see them in use throughout manufacturing facilities around the world. For this contest, we'd like for you to send us an image of your oldest Boker's Stampings or Washers Catalog. We will be providing a Boker's branded gift to whoever provides us with the photo of the oldest Boker's catalog.
Request a current catalog here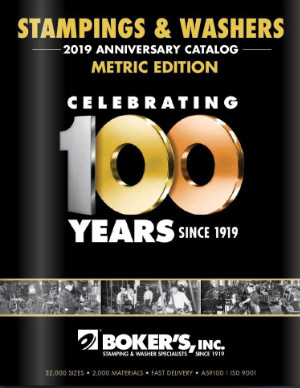 Upcoming Trade Shows:
Steel and Aluminum Tariff Updates
Please visit this website to stay up to date on the steel and aluminum tariffs. We suggest bookmarking this webpage as it is continually updated with the latest information regarding the tariffs.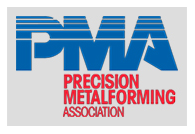 PMA Business Conditions Report: November 21, 2019
According to the November 2019 Precision Metalforming Association (PMA) Business Conditions Report, Metalforming companies continue to forecast a downward trend in economic activity in the coming months, according to the November 2019 Precision Metalforming Association (PMA) Business Conditions Report.
Prepared monthly, the report provides an economic indicator for manufacturing, sampling 100 metal forming companies in the United States and Canada.
The November report showed that 15% of participants predict an improvement in economic activity during the next three months (an increase from 14% in October); 51% forecast no change in activity (compared to 49% in October); and 34% anticipate a decline in activity (a decrease from 37% last month).
Click here for the Full Business Conditions Report
Copyright © 2019 Boker's, Inc.