Volume 78 | 2nd Quarter 2021
Boker's, Inc. Offers Custom Stamped Divot Repair Tools
Golf retailers, golf clubs and companies can turn to Boker's, Inc., to make custom branded stamped divot repair tools.
Spring is just around the corner and people will start hitting the links in order to enjoy the great outdoors with fresh air and beautiful surroundings. What better way to celebrate the season than with custom stamped divot repair tools? Whether you're hosting or sponsoring an event or want your patrons to carry away a course souvenir, you can order divot repair tools just the way you want them
Meet Chuck and Learn About Boker's Capabilities
Boker's, Inc. Launches Refreshed Website to Enhance User Experience!
Boker's launches newly refreshed website in an effort to enhance user experience and increase customer satisfaction. This newly refreshed website will maintain it's ability for users to submit requests for quote for our product categories: Stampings, Washers, Spacers, Shims & Disks or request information such as a Stampings & Washers Catalog or Scheduling Calendar.
Click here to access Boker's newly refreshed website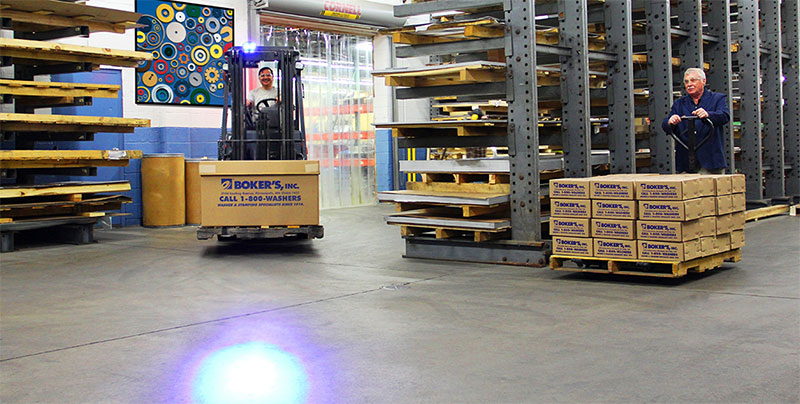 Boker's is Committed to Safety
Here at Boker's we are committed to safety in everything we do. We recently unveiled our new safety slogan "SAFETY IS NO ACCIDENT" to promote the importance of keeping our safety initiative top of mind. Throughout the years Boker's has taken great measures to ensure the safety of our employees throughout the plant. From our stamping presses installed with redundant safety checks to our forklifts installed with high powered blue lights for increased visibility when views are obstructed by racking, corners and machines.
Made-To-Order Shim Stacks for Powersports & Recreational Vehicle Suspension
Many people enjoy the thrill and exhilaration of recreational powersports and put their chosen equipment through the paces. With many using their vehicles in demanding off-road conditions, the suspension systems are subjected to heavy abuse and require components that withstand extreme forces and environments while providing safe, long-lasting performance, and a smooth and stable riding experience. These performance demands require lightweight, extreme durability and high-strength parts and components that offer the highest levels of reliability throughout the most extreme conditions.
Boker's has over 100 years of experience producing custom stamped components for various off-road applications including the industry-leading range of non-standard washer, spacer and shim sizes. In particular, valve shim stacks from Boker's offer unsurpassed surface finishing to accommodate a wide range of recreational, off-road, automotive and industrial applications.
Custom Stampings and Specialty Washers Made-to-Order for the Test & Measurement Industry
If there's one characteristic that's essential in the Test and Measurement Instrumentation Industry, it's precision. By nature, these systems demand high precision and repeatability in the design and manufacturing process all the way down to their most basic assemblies and component parts. From the leading instrument brands to the next generation of device innovators, precision stampings, washers, spacers and shims from Boker's, Inc. are the choice for many OEMs.  Continue reading here to find out why.
PMA Business Conditions Report: May 19, 2021
Metalforming companies forecast a dip in business conditions during the next three months amid continued supply challenges and increased lead times for steel and other materials, according to the May 2021 Precision Metalforming Association (PMA) Business Conditions Report. Prepared monthly, the report provides an economic indicator for manufacturing, sampling 101 metalforming companies in the United States and Canada.
Copyright © 2021 Boker's, Inc.