Retaining Washers
Boker's is a stamping manufacturer of custom retaining washers for various assembly applications. Retaining washers or retention washers are used to hold a configuration in place. These configurations may be as simple as a screw and washer or more complex components or wire guides.

Retaining Washers for Pre-Assembly
Retaining washers are often made with specially designed inside diameters to allow the washer to easily slide into place and grip the outside of a screw shank, bolt or product component. These washers are pre-assembled with a screw or component to ultimately make the final assembly process more efficient.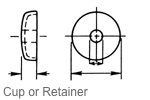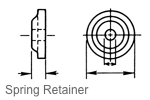 Retaining Washers for Wire Guide Assemblies
Retaining washers made with two or more holes are used for assembly applications requiring a guide for wire, cable, cord or a chain. One hole is used to fasten the retaining washer in place with a screw or bolt while the other holes are used as wire guides for a specific assembly.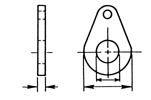 Retaining

To obtain a quote for retaining washers please fill out our fast quote form.

Return to Custom Flat Washers