Fender Washers
Boker's is a stamping manufacturer of fender washers. A fender washer, though similar in shape to a standard washer, differs in that the outside diameter is traditionally much larger in proportion to the center hole. With this design, a fender washer can be placed under the head of a bolt or nut to help distribute forces applied when tightening. Its oversized outside diameter also provides more bearing surface for the load of the fastener—distributing the load further on soft or thin materials. Fender washers are commonly used in automotive, sheet metal, plumbing and electrical applications.
Fender washers have an outside diameter
much larger in proportion to the center hole.
Boker's fender washers are offered with outside diameters ranging from 0.081 inches to 5.000 inches, plus numerous inside diameter and thickness options. With ready access to more than 2,000 commonly specified and difficult-to-find materials, Boker's delivers fender washers in materials including low-carbon sheet steel, various spring steels, stainless steel, aluminum, brass, copper and nickel silver. Non-metallic material options include ABS, acetal, polyester, nylon, nylon MD, polycarbonate, fiber, polyethylene and various NEMA grade laminates. To obtain a quote for a fender washer please fill out our fast quote form.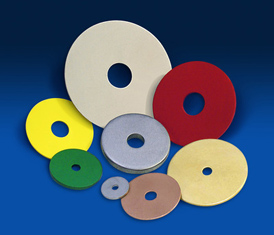 Search Fender Washers
Boker's has thousands of fender washer die tools available to manufacture fender washers with no tooling charges.  Search below to identify tools in stock available for manufacturing your fender washers. You can choose a thickness within the tool range indicated.
Note, for non-metallic materials, the thickness ranges stated are minimum and maximum values for metallic washers and spacers but may be suitable for non-metallic pieces as well. When the thickness stated for a particular tool is .005″-.010″, that tool can be considered for non-metallic items from .005″ to .125″ thick. The inside diameter noted may shrink by as much as 10% of the material thickness depending on the material used and its thickness. Please refer to Boker's non-metallic shrinkage factors.
Search Results All measurements are given in inches
Custom Fender Washer Solutions
If no tool is available within your specified tolerance range Boker's can have a custom die manufactured in just a few hours. For custom orders fill out our fast quote form.