Metric Flat Washers, Spacers and Shims
Boker's provides thousands of stock tools for immediate availability to manufacture metric flat washers, spacers and shims from over 2,000 materials. To search for a metric washer option that best fits your application simply use the Search Washers widget at right and select millimeters as your unit of measurement.
If a tool isn't available for your specific need Boker's can have a custom die manufactured in just a few hours.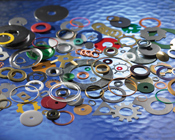 Whether it's standard metric washers to fit a common bolt size or unique metric washers for a specific application Boker's can supply you with precision metric washers, spacers and shims to meet your exact specifications.
To request a quote for a specific metric washer please fill out our fast quote form.
Boker's Metric Washer Catalog
Our metric washer catalog provides an easy way to browse our list of thousands of non-standard metric sizes available with no tool charges.  With outside diameters ranging from 2.03 mm to 130.55 mm and a wide variety of inside diameters and thicknesses as well as material variations, you have endless possibilities. In the 12 mm to 13 mm OD range alone, there are over 900 options available.
To start browsing through the Metric Washer Catalog download the PDF version from our download center today.
Boker's Metric Conversion Chart
Boker's provides the industry with an easy-to-use metric conversion chart.  This chart has become a staple reference for many for quickly converting the most common measurements.  On the flip side of the conversion chart there is a 15-month scheduling calendar featuring clearly numbered weeks, with all holidays and Sundays listed in red.
You can view the Metric Conversion Chart online, request a hard copy, or download a PDF.
Standard washers manufactured by Boker's, Inc.
Non-standard washers manufactured by Boker's, Inc.
Custom washers manufactured by Boker's, Inc.