Custom Shims for Diverse Industry Applications
Boker's is a metal stamping manufacturer of custom shims. Boker's provides custom metal shims in a variety of shapes and sizes up to 12" x 12" (flat) with thicknesses from .005″ to .190″ (varies by material) and custom non-metallic (plastic) shims up to 5" x 7" with thicknesses from .005" to .125".
Custom shims produced include:
Aircraft/Aerospace Shims
Alignment Shims
Appliance Shims
Automotive Shims
Bearing Shims
Camber Shims
Differential Shims
Head Shims
Hinge Shims
Pinion Shims
Precision Shims
Shim Spacers
Shim Washers
Shock Shims
Starter Shims
Valve Shims
Wheel Shims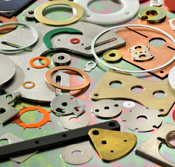 Over 2,000 Material Options for Precision Metal Shims
To expedite your order and shorten delivery time, Boker's has immediate access to 2,000 commonly specified and hard-to-find materials including low carbon, cold rolled strip and sheet steel; SAE 1050, 1075, and 1095 spring steel; blue and black temper spring steel; low alloy steel sheets; brass; copper; nickel silver; beryllium copper; phosphor bronze; stainless steel; aluminum and several non-metallic materials such as acetal, PTFE, polyester, nylon, fiber, polyethylene, and various phenolics.. Certificates of Compliance or chemical/physical analyses are available upon request.
To obtain a quote for custom shims fill out Boker's fast quote form and submit applicable production prints.