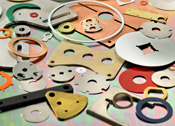 Boker's is a metal stamping manufacturer of metal shims. Boker's provides custom metal shims in a variety of shapes and sizes up to 12" x 12" (flat) with thicknesses from .005″ to .190″.  Common shims made from metal include shim plates, alignment shims, bearing shims, and shim spacers/washers.
Over 2,000 Material Options for Precision Metal Shims
To expedite your order and shorten delivery time, Boker's has immediate access to 2,000 commonly specified and hard-to-find materials including low carbon, cold rolled strip and sheet steel; SAE 1050, 1075, and 1095 spring steel; blue and black temper spring steel; low alloy steel sheets; brass; copper; nickel silver; beryllium copper; phosphor bronze; stainless steel; and aluminum. Certificates of Compliance or chemical/physical analyses are available upon request.
To obtain a quote for metal shims fill out Boker's fast quote form and submit applicable production prints.
Search flat round metal shims
---
Search below to identify tools in stock available for manufacturing flat round metal shims in any quantity without a tooling charge. You can choose an exact thickness for precision metal shims within the tool range indicated. If no tool is available within your specified tolerance range Boker's can have a custom die manufactured in just a few hours.  For custom orders fill out the fast quote form.
Search Results All measurements are given in inches