Boker's is a metal stamping manufacturer of copper shims. Shims made from copper are often used with piping, electronics, household products, and biomedical applications as copper is malleable and ductile– a biostatic surface that is a good conductor of heat and, when very pure, a good conductor of electricity. Boker's provides copper shims in a variety of shapes and sizes up to 12" x 12" (flat) with thicknesses from .005″ to .190″.  Common shims made from copper include shim plates, alignment shims and shim spacers/washers.
To obtain a quote for copper shims fill out Boker's fast quote form and submit applicable production prints.
Search flat round copper shims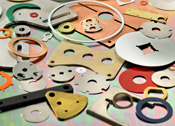 Search below to identify tools in stock available for manufacturing Copper Shims in any quantity without a tooling charge. You can choose an exact thickness for precision aluminum shims within the tool range indicated. If no tool is available within your specified tolerance range Boker's can have a custom die manufactured in just a few hours.  For custom orders fill out the fast quote form.
Search Results All measurements are given in inches