The most common low carbon steel alloy specified from Boker's for manufacturing shims is steel AISI 1008/1010.  It's believed this is due to it's original popularity within the automotive industry.  However, with Boker's immediate access to over 2,000 materials you have the ability to specify the exact steel necessary for your application.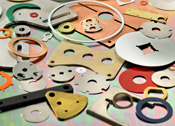 Boker's is a metal stamping manufacturer of steel shims. Steel is an alloy consisting mostly of iron, with a carbon content range between .08% and .13%, depending on grade. Steel options provide the most diverse group of alloys and applications of all metals. It is often thought that there is a steel alloy available to manufacture just about any product.  The primary concern with steel is that it has poor corrosion resistance.  However, its relatively low cost makes it a common choice.
General alternative steel materials to consider:
Boker's provides steel shims in a variety of shapes and sizes up to 12" x 12" (flat) with thicknesses from .005″ to .190″.  Common shims made from steel include shim plates, alignment shims, bearing shims and shim spacers/washers.
To obtain a quote for steel shims fill out Boker's fast quote form and submit applicable production prints.
Search flat round steel shims
---
Search below to identify tools in stock available for manufacturing flat round steel shims in any quantity without a tooling charge. You can choose an exact thickness for precision steel shims within the tool range indicated. If no tool is available within your specified tolerance range Boker's can have a custom die manufactured in just a few hours.  For custom orders fill out the fast quote form.
Search Results All measurements are given in inches