Boker's is a metal stamping manufacturer of aluminum spacers. Spacers made from aluminum or aluminum alloy provide a much lighter material and more corrosion resistant material than plain carbon steel spacers. Boker's provides aluminum spacers in a variety of shapes and sizes up to 12" x 12" (flat) with thicknesses from .005″ to .190″. Aluminum spacers are often used to achieve precise spacing between components and/or materials.
To obtain a quote for aluminum spacers fill out Boker's fast quote form and submit applicable production prints.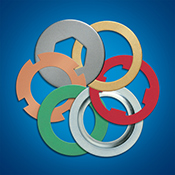 Search Flat Round Aluminum Spacers
---
Search below to identify tools in stock available for manufacturing flat round aluminum spacers in any quantity without a tooling charge. You can choose an exact thickness for precision aluminum spacers within the tool range indicated. If no tool is available within your specified tolerance range Boker's can have a custom die manufactured in just a few hours. For custom orders fill out the fast quote form.
Search Results All measurements are given in inches