Long Run Stamping and Washer Production
Boker's, Inc., has stamping and washer production capabilities to ensure quick turnaround on long runs. With high-volume production runs of over one million washers, and 95 years of experience in precision metal stamping production, Boker's can meet standard or custom design requirements while ensuring fast delivery.
Boker's stamping and washer production capabilities includes high-capacity finishing equipment to increase productivity on short, medium and long runs. Boker's offers 2,000 commonly specified and hard-to-find materials such as low-carbon steel, various spring steels, stainless steel, aluminum, brass, copper and nickel silver.
Bo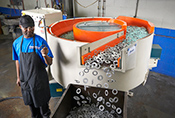 ker's provides endless washer possibilities; with thousands of non-standard washers in sizes ranging from 0.080-inches to 12-inches outside diameter and a wide variety of inside diameter choices. Flat washers and custom shapes such as tab and notched washers can be created to meet exact design specifications. To satisfy complex, precision stamping applications, Boker's extensive stamping capabilities encompass sizes up to 12 inches x 12 inches, in thicknesses from .005″ to .190″ inches and draws up to 3 inches deep and 8 inches in diameter.
To learn more about Boker's stamping and washer capabilities, visit: http://www.bokers.com/capabilities