Boker's First Products and Vitus Arthur Boker's Patents
Boker's, Inc. prides itself in its rich history of accomplishment and innovation.
Vitus Arthur Boker, inventor and founder of Boker's, is credited with over 25 patents which propelled Boker's into the manufacturing business.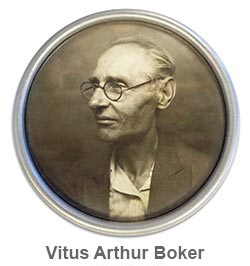 The Check Protector, patented in 1923, is a machine that embosses checks to prevent forgery. Vitus' handheld model was so compact it could fit into a vest pocket, which provided a convenience not offered by the previous desktop model.
In addition to the Check Protector, Boker's other patents included an adjustable Paper Folding Machine. This machine was designed to efficiently fold paper into various sizes for placement into envelopes.
Vitus Boker and his family were pioneers in metal stamping. Many of his patents were designed to improve efficiency and productivity in the industry. Vitus' principles of innovation and continuous improvement continue to guide Boker's today. Visit the links below to learn more about these patents.
Transmission Mechanism – Sept 22nd, 1914
Tractor – Oct 31st, 1916
Tractor – Feb 6th, 1917
Tractor-Truck – April 3rd, 1917
Self Lubricating Lantern Gear – Nov 13th, 1917
Travel Controlling Mechanism for Tractors – Feb 11th, 1919
Radiator Fan Supporting Means – Sept 14th, 1920
Traction Wheel – May 3rd, 1921
Jar Cover Remover – May 3rd, 1921
Automatic Filing Machine – April 18th, 1922
Check Protector – Jan 9th, 1923
Skate Grinding Machine – March 18th, 1924
Paper Folding Machine – Dec 29th, 1925
Combined Vehicle and Traction Machine – June 29th, 1926
Heating Element and Method of Making the Same – Sept 13th, 1927
Low Metal Alarm – Nov 22nd, 1927
Gas Governor for Type Casting Machines – Aug 13th, 1929
Grease Gun – April 14th, 1931
Nozzle for Lubricating Systems – April 28th, 1931
High-Pressure Grease Gun – May 5th, 1931
Lubricator Coupling Means – May 19th, 1931
Punch Press – April 9th, 1935
Metal Sawing and Filing Machine – Oct 29th, 1935
Punch Press Mechanism – April 27th, 1937
Laying-out Device – June 8th, 1937
Method of Producing Die Sets – June 9th, 1940
Return to History